mental floss presents Forbidden Knowledge: A Wickedly Smart Guide to History's Naughtiest Bits (Paperback)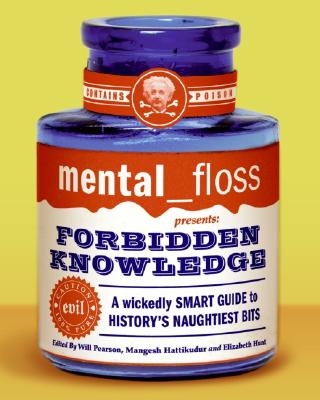 $21.99

Ships from warehouse to store in 3-6 business days
Description
---
Think of anything bad, from art heists to Genghis Kahn, and it's likely to be included in this wickedly smart and humorous guide to the seedy underbelly of basically everything. The brainiac team at "mental_floss", creators of the hit magazine and last year's Condensed Knowledge, have scoured the darkest, dirtiest corners of history and the globe to gather this ultimate collection of the bad stuff you're not supposed to know and you certainly never learned in school.
Organized by theme, with chapters for each of the seven deadly sins, the book includes feuds, plagiarists, hoaxes, lies, schemes, scandals, evil dictators, mob bosses, acts of revenge, angry queens, cannibals and much more, all organized into bite-sized—albeit foul-tasting—lists (i.e."The Fascist Style Guide: Five Dictator Grooming Tips", "Four Biblical Girls Gone Wild" and "Three Delicious Animals We Charbroiled Into Extinction."). It's the perfect way to add some spice to a dull conversation and proves that learning can be not only easy, but exquisitely sinful.
About the Author
---
Will Pearson and Mangesh Hattikudur met as first year students at Duke University. Ignoring the lures of law school and investment banking, the pair co-founded mental_floss and have been grinning ever since. Maggie Koerth-Baker is a freelance journalist and a former assistant editor at mental_floss magazine, where she consistently astounded Will and Mangesh with her amazingness.
Praise For…
---
"A lot like that professor of yours who peppered his tests with raunchy jokes: it makes learning fun." — Newsweek
"A delightfully eccentric and eclectic new magazine." — Washington Post
"Part scholarly journal, part Spy magazine protégé." — Charlotte Observer
"For the discerning intellect, Mental Floss cleans out the cobwebs." — Chicago Tribune
"The titans of trivia." — Newsweek
Free Media Mail shipping on U.S. orders over $50