***We are offering FREE media mail shipping on books. We are open from 10am-7pm Monday through Saturday and 10am-6pm Sunday. Phones may not be answered due to a high volume of calls.***
Torpedo Juice (Hardcover)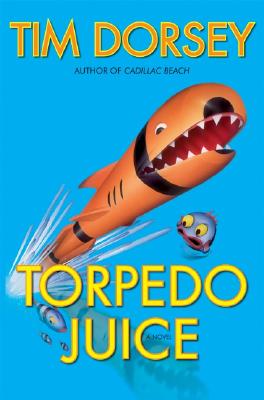 $24.95
Hard to find: allow 24 hours for information
Description
---
The drinks are on us
Serge A. Storm returns -- and so does Tim Dorsey -- for another hilarious tour of the wacky underside of the Sunshine State. And this time our lovable but maniacal hero is on a mission: Stay off police radar and reinvent himself.
Naturally Serge makes a beeline to the Reinvention Capital of the United States, the Florida Keys, where nobody is who they seem to be and the freaks are the least of your worries.
The perfect place for Serge to blend in
Unfortunately, some other less likable lunatics have latched on to the same idea, and the sheriff's fax machine keeps jamming because of all the APBs coming in like a storm front about to break ... Lurking beneath paradise are many questions: Who is the mystery driver of the metallic green Trans Am? The brown Plymouth Duster with Ohio plates? What about the white Mercedes with tinted windows?
Who can keep it all straight?
Serge can
At least when he's not conch blowing, Seven-Mile Bridge running, underwater romancing, operating an all-inclusive twelve-step program, or trying to convince his accidental posse that he's not the messiah.
But the questions only lead to more questions: Why is everyone afraid to set foot on No Name Key? Why are they more afraid of the smuggler left over from the old days, when all the phone booths are covered with drug dealers' numbers? What was Serge thinking when he got married? What was she thinking? Who rises from the dead to wreak havoc on the newlyweds' bliss? Will the Skunk Ape win the scavenger hunt? Who will survive the Key West beach bash from hell? And why is everyone hammered all the time?
Maybe it's something in the Torpedo Juice ...
Praise For…
---
"Grade: A. Bust a gut laughing. . . It doesn't get any better."
-Denver Rocky Mountain News

"Wildly entertaining"
-Charleston Post & Courier

"Explosively funny"
-Miami Herald

"A raucous good time of a ride"
-Tampa Tribune

"Dorsey has another winner on his hands with Torpedo Juice."
-Florida Today

"Brutally funny"
-Pittsburgh Tribune