Miss Julia Hits the Road (Audio cassette)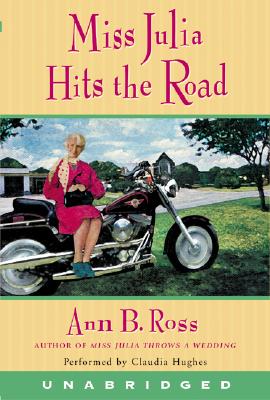 Description
---
Miss Julia -- that proper lady of a certain age with a backbone of iron and perfect Steel Magnolia poise, not to mention the sharpest tongue south of the Mason-Dixon Line –- always likes to nip any little problems in the bud. Not this time. Miss Julia is increasingly concerned about her gentleman friend, Sam, who has suddenly started wearing cowboy boots, sending flowers, and writing bad poetry. When he shows up on a Harley-Davidson one day, shes convinced he's lost his mind –- or is at the very least wrestling with a particularly intense midlife crisis.
Meanwhile, Miss Julia's invaluable housekeeper, Lillian, and all her neighbors have been evicted from their homes by their greedy landlord, who has bigger plans for the property. So off Miss Julia rides (in the sidecar, naturally) –- wearing a Leslie Fay shirtwaist and a black-visored helmet –- risking life and limb on a poker run, a motorcycle fund-raiser to save Lillian and her friends' homes. Hitting a few bumps on the way, Miss Julia still manages to maintain the impeccable manners and irresistible charm that keep her listeners coming back again and again.
About the Author
---
Ann B. Ross, who taught literature at the University of North Carolina at Asheville, is the author of Miss Julia Speaks Her Mind, one of the most popular Southern debut novels in years, Miss Julia Takes Over, Miss Julia Throws a Wedding, and Miss Julia Hits the Road. She lives in Hendersonville, North Carolina.